Tuna Macaroni Salad
Tuna Macaroni Salad
The other night I was faced with the dilemma of what to have for dinner. It was a rare occasion that Joe would't be there, and on those nights I like to be spontaneous about what I eat. I thought pasta sounded good, but I didn't want something with cream and I didn't feel like any sort of tomato sauce. Once I thought of my mom's macaroni salad recipe I knew I wanted a variation of that. I sized the recipe way down so I wouldn't have a week's worth of leftovers and I knew I wanted something crunchy so I added a green onion. Other new additions are just a little bit of mustard and crème fraîche to add a little extra something. I also used a large can of tuna and three eggs to up the protein.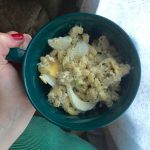 Print Recipe
Tuna Macaroni Salad
Ingredients
8

oz

elbow noodles

3/4 to 1

cup

mayonnaise

1

tsp

mustard

1

tsp

crème fraîche

7

oz

canned tuna

3

hard boiled eggs

1

green onion

celery salt

dried dill

pepper
Instructions
Cook the noodles according to package directions, drain.

While noodles are cooking, mix the mayonnaise, mustard, and crème fraîche together; slice the green onion; drain and flake the tuna; and slice the hard boiled eggs.

After the noodles have cooled a bit, add the mayo mixture and combine.

Add the tuna and onion then sprinkle some celery salt and dill on top (a light dusting to the surface area), and add a little pepper. Combine and add another dusting of the celery salt and dill. Combine again.

Add the sliced eggs and gently combine.

Chill in fridge for a few hours to let the flavors come together or eat immediately, both are great.