Valentine's Day and Beef Stroganoff
Valentine's Day and Beef Stroganoff
Joe and I usually have a low-key Valentine's day at home. For all of the four years we have celebrated it, he buys me flowers and I made P.F Chang's spicy chicken for him. But that's the thing; I don't like spicy chicken so I either have to choke it down in between chugging glasses of water or make something else for myself. Not romantic.
This year, new city new game plan, we're going to go out to dinner the night before (because going out to eat on Valentine's day sounds like a nightmare) to a new restaurant we haven't decided on yet, then for dinner on Valentine's day I am making our favorite meal, Beef Stroganoff.
Beef Stroganoff is the meal where we fast all day and wait with watering mouths until we sit down with our bowls, finally in our hands, and devour first and second helpings without speaking. Even though I pick around the beef, I can't imagine it tasting the same without it.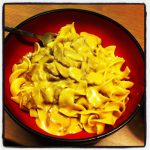 Print Recipe
Beef Stroganoff
Ingredients
1

lbs

beef tenderloin or sirloin steak

7

tbsp

butter

separated

8

oz

fresh mushrooms

cleaned and sliced

2

10 1/2 oz

cans condensed beef broth

¼

cup

ketchup

1 ½

teaspoon

garlic salt

⅓

cup

flour

2

cups

sour cream

1

lb

egg noodles
Instructions
Cut meat across the grain unto ¾" slices, then into strips 3x¼".


Melt ¼ cup butter in large skillet or pot over medium heat. Cook mushrooms in butter 8-10 min or until browned. Remove mushrooms with slotted spoon and set aside, leaving remaining butter in pan.

In same skillet, brown meat. Reserving ⅔ cup of broth, stir in remaining broth, ketchup, and garlic salt. Cover and simmer 15 min. Start water to boil for noodles, cook when ready.

Blend reserved broth and flour; stir into meat. Add mushrooms. Heat to boiling, stirring constantly. Boil and stir for 1 minute. Stir in sour cream; heat through.

Toss noodles with 3 tbsp butter. Serve with stroganoff.