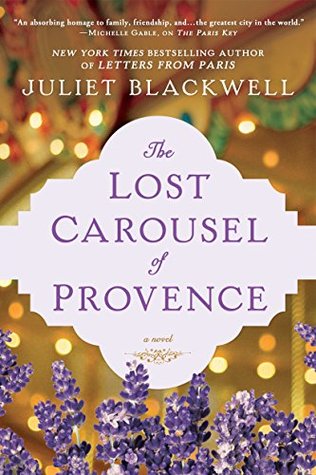 The Lost Carousel of Provence by Juliet Blackwell
The Lost Carousel of Provence by Juliet Blackwell
I have conflicting feelings about this book. I love the story but not the writing; it feels too neat and tidy to be realistic. The dialogue feels written instead of spoken and real and the foreshadowing feels like a sticker placed over the natural story. There are errors such as "Latine Quartiere" instead of Latin Quartier or Quartier Latin (hopefully this was fixed for the final book as I read an ARC) and having Caty, a photographer, make individual prints of images from unknown rolls of film rather than a contact sheet to see what the pictures are. I really enjoyed the magic of carousels infused throughout the story.
We jump between Maëlle in 1900, Fabrice in 1945, and Caty in "present day." Sometimes the switch felt premature and the two earlier settings felt fake and forced, but for the most part it was interesting to see the different points of view and time. I definitely enjoyed Caty's POV the most.
So the details and the writing weren't great, but the story… it was moving as it is and could have been made into something incredible with a bit more polishing up. If you like all things French like me then give The Lost Carousel of Provence a read.
4/5 Stars
I was given a copy of this book via NetGalley in exchange for an honest review.